The Luna spotlight range contains some of our most advanced LED technology in an elegant adjustable spotlight.  The Luna TG is the largest of the adjustable anti-glare family and features a powerful 5 watt LED module. The Nichia™ LED chip produces a very high quality LED output with an average colour rendering index of 95. The spotlight is waterproof from both the front and rear and is available in various lens angles and colour temperatures.
Interior & exterior spotlight with chrome plated bezel
Adjustable fitting - max. 16° tilt
Excellent anti-glare properties with recessed LED source
Galvanised brass face, chrome plated
Custom finishes available on request
Tempered glass lens
Anodised aluminium heatsink
Multiple lens angles available
Available in numerous white colour temperatures as well as red
CRI>90
Heat Dissipation

-

Heat dissipation is key to the performance and longevity of LED lighting.  Our Power LED modules have been carefully designed to ensure that the heat is taken away from the LED chips and dissipated through the incorporated heat sink designed into the product housing.

Circuit board temperatures are closely monitored during the development phase of each product and appropriate heat dissipation can then be accurately calculated to ensure that product will continue to perform for many years.

 

Power Regulator

-

The 10-30Vdc power regulator is always a remote item on the power cable of the fitting.  This offers numerous advantages over alternative methods used by competitor brands.  Keeping the power regulator separate reduces heat build-up on the LED circuit board and therefore increases performance and longevity of the LEDs. 

Remote regulators can also be easily removed so that the product can be powered directly with the correct amperage, very useful for integration in some mains voltage applications.

 

 

Anti-glare Design

-

The LED chips are positioned deep within the body of the fitting.  This helps to minimise glare and ensures that you see the effect of the light, not the source.

(Plutone TG pictured) 

Not All Cones Are Equal

-

A choice of lens angles is available for this product which means that the perfect output can be selected for any given project.  Selecting either standard, medium or narrow lenses can have a large effect on the overall lighting effect.

 
Photometric data shown below for Plutone TM spotlight which shares same output as Luna TM.  Photometric data for various lens angles shown below: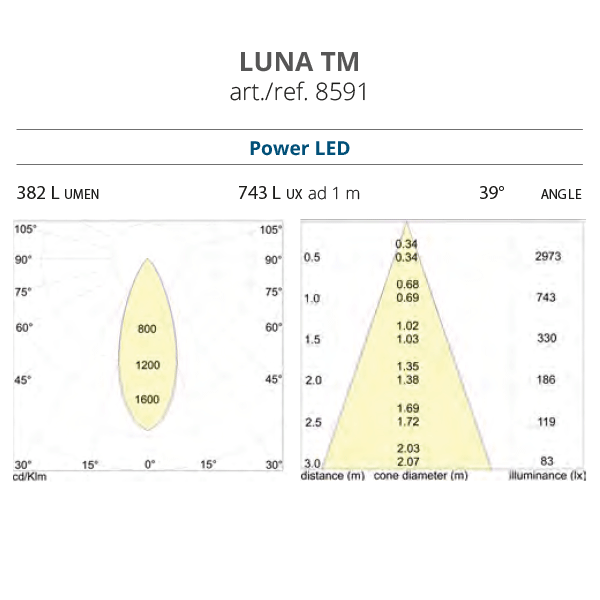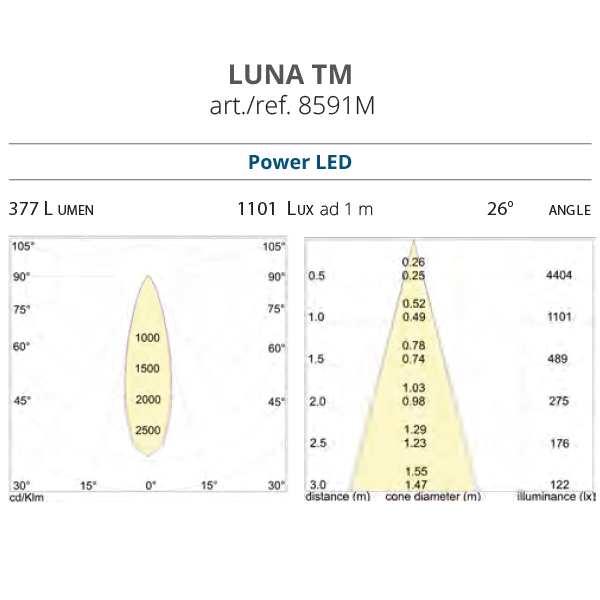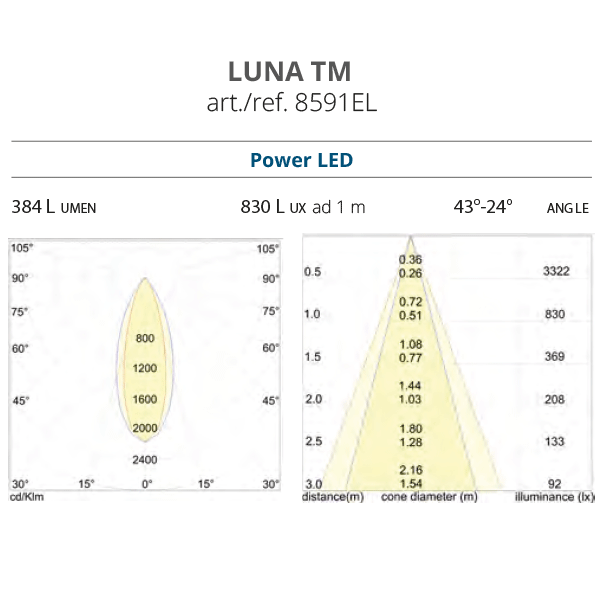 More Information

| | |
| --- | --- |
| Weight (kg) | 0.30 |
| Manufacturer | Foresti & Suardi |
| Installation | Recessed |
| Light Element Type | Power LED |
| Rotation Angle | ± 16° |
| Wattage | 6.5W |
| CRI | >90 |
| Input Voltage | 10-30Vdc |
| IP Rating | IP65 |
| Dimmer | Yes |
| Bezel Size (mm) | Ø70.00 |
| Cut-out Size (mm) | Ø60.00 |
| Depth (mm) | 50.00 |
| Finish | Chrome |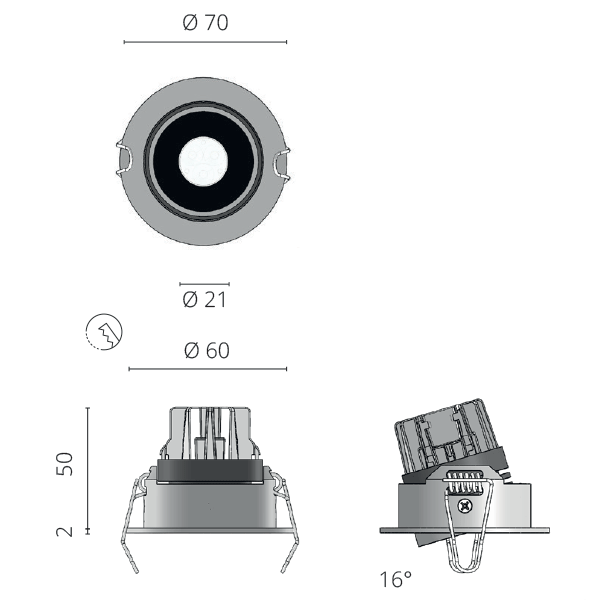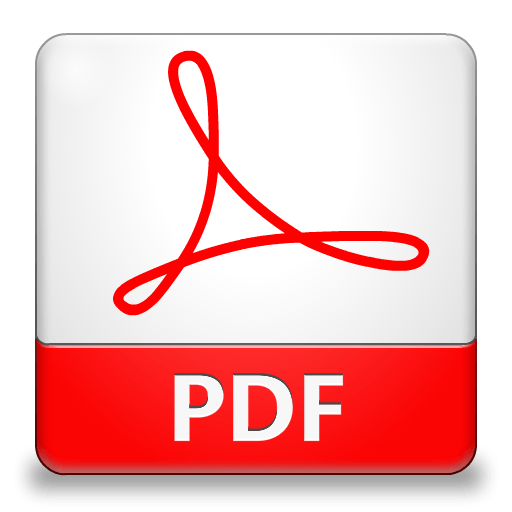 Download as PDF